We're six months into this foster parenting thing. It feels like both a long and a short time concurrently. Six months have taught me incredible lessons. I expected to learn and desired to grow, but I'm finding some lessons to be a little more like a sharp jab than the desired bend.
I walked into this new foster parent role with some knowledge and expectations. I expected the children in our home to act out some hard behaviors borne out of unmet needs, lack of ability to communicate feelings, and sin. I expected moments of rage and withdrawal. I understood the need to look not only at the behavior of the child but also to see the why.
I don't always know exactly how to help our children move to a place of regulation where they can better communicate their need, but I'm finding knowing what strategy to use isn't actually always my biggest hurdle.
There's something else that rises to the surface with children—my own emotions.
Ok, that might seem like a duh, but I'm not a feeler. And yet, I can't help others move to a place of regulation if I am out of control myself. Again, that might sound like a duh, but then reality hits and I find myself with a harsher response than I'd like.
So, here I am, a thinker, talking about emotions because I'm finding it important to have a healthy view of those things that start to well up inside of us all.
Two things I'm learning about my emotions as a Christian:
1. Emotions were created by God for His glory.
God is a good creator. He made us and knows us, and therefore, knows how we feel. It's not as if God is surprised that we feel things. In His creation, He made us to have emotions, and it was good. When sin entered the world, so, too, did grief and heartache—newly expanded emotions for us.
God's Word tells us to: hate evil, serve the Lord with gladness, mourn with those who mourn, be tenderhearted, let the peace of Christ rule in our hearts, and be grateful. All of those are big emotions, so it's not as if God is telling us that we aren't to experience emotions or that we need to avoid them.
Our emotions have purpose, and God delights when we bring our emotions to Him. When our emotions serve to point us to God, He gets the glory. And yet, I don't often think of my emotions in that way. I consider how I feel and how I want to feel, and I think much less about what God wants me to do with what I feel. But, our emotions actually play a part in our obedience to God.
2. Emotions must be guided by truth rather than letting truth be guided by our emotions.
Clearly, emotions are not the source of our problems. They aren't inherently bad, but sin has devastated our emotions. Our problem is that we are sinful—it's a deeper heart issue. Our emotions, much like our behavior, express themselves, because of something in us.
Emotions are helpful in that sense, as they can often tell us what we value and what we believe or our interpretation of truth. In looking back on my emotions, I can question: What does this emotion tell me that I treasure and believe? I can then trace the emotion back to its source. It's only when I break the emotion down that I can begin to see if it's a Godly emotion or not. Godly emotions come from beliefs and values that line up with the truth of God's Word. I can then attack my sin, because I understand it better.
If I think that emotion just happens to me and I can't do anything about it, then I am hopeless. I will continue to respond harshly, because there is nothing I can do to prevent it from bubbling up again.
So what do I do with all of this?
How do I get to a place where I can help my child by first helping myself be in control?
First, just a side note, as Carolyn Mahaney and Nicole Mahaney Whitacre articulate: "Self-control isn't suppression; rather, it's a refusal to agree with the sinful beliefs and values of our emotions."
Ok, now that we acknowledge that truth, we can move to a place of healthy self-control through:
1. Evaluation.
Go after those false values and beliefs. Ask, does what I believe line-up with Scripture?
2. Prayer.
Pray that the Lord would keep you from temptation.
3. Action.
Follow the "put off, put on" principle.
Confess sin.
Ask for faith to overcome your sinful belief.
Counteract a lie with a truth.
I am not helpless over my emotions.
I can help my children regulate, because I have power over my own emotions. That power comes from Christ. I can take that harsh word, boiling up from anger that manifests itself in frustration and meet it with the truth of Scripture. God tells us to rid ourselves of anger, and I'm praying, asking that He would meet me in my sin, so that I can then help my child move to a place where they, too, can understand their own emotions and behaviors.
I want to help my child. I want to honor and glorify the Lord. I can do that with a right understanding and practice of my emotions.
Want more insight into emotions? I found these resources to be helpful; maybe, you would too.
For a shorter read:
True Feelings: God's Gracious and Glorious Purpose for Our Emotions by Carolyn Mahaney and Nicole Mahaney Whitacre
For a longer, but oh so helpful read—weighty but good:
Feeling and Faith: Cultivating Godly Emotions in the Christian Life by Brian Borgman
Or, you can listen to it in smaller sections!
Holly Gnuse
Holly grew up with a heart for adoption but didn't know much about foster care. God used an internship with a local child welfare agency to make her aware. Coupling that experience with knowing the joy of the Gospel, Holly is passionate about connecting the local church to the foster care community. Holly and her husband, Scott, were married in December 2013 and are enjoying the crazy adventure of life together.
Get encouragement and updates in your inbox.
Be the first to know about new episodes, posts, resources, and stay in the loop about what's coming up.
You Might Also Enjoy: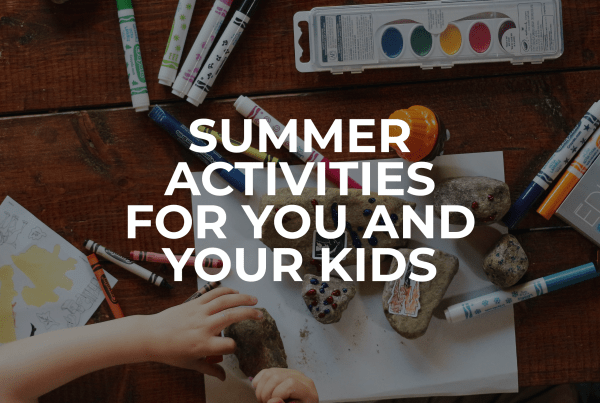 You don't need to plan or spend too much to have fun as a family this summer. Here are 15 summer activities for the whole family that you can try this year:
Though we have much more information than in the first days, there are still gaps. There are questions that are challenging to answer—honest, curious questions that have incomplete answers.
While it might be a little unconventional to draw correlations between a movie about Barbie and the foster care community, I hope some of these reminders help each of us slow down to consider our…