"It's crazy how often times our sacrifices can lead us to a much greater calling."
Jamie Grace is a Grammy nominated, Dove award-winning contemporary Christian/Christian rap musician who has big dreams and plans beyond music. Raised in a household in which her parents took in more than 25 children, she has a huge heart for foster care and is determined to make a difference in others' lives in tangible ways.
Convictions
In spite of what could have been very poor influences, Jamie Grace doesn't believe having troubled kids in their home had a negative impact. "We were raised to be who we are—our parents raised us to have convictions for ourselves." Because of that, they were strong in their own beliefs about right and wrong.
Her parents were very open about their own convictions, so if Jamie Grace and her sister were not allowed to do something, they knew the reason why—not just because their parents said so. "My parents would say, 'We don't watch that TV show because of "X" situations that make us uncomfortable.' They were very clear about what their convictions were."
For example, Jamie Grace frequently watched a TV show in which one of the characters used the word "dumb" regularly. Then she herself started using the term, and that's when her mom said, "You're not watching that show because of the negative impact it's having on you." Her parents always explained why with openness and transparency.
"There's often a misconception about foster children, that they are crazy monsters. In reality, they are hurting, broken children that need to be loved," she says. Her parents showed her that love can overcome all those things—even the most difficult things they had been exposed to.
Growing up with other children
More than dealing with negative influences from other children, what Jamie Grace found difficult with so many children coming in and out of their home was seeing their reality. "Everything about their lives was so different than everything I knew," she says. She recalls one three-year-old telling a story about how his parents had hidden drugs in his diaper. "I was overwhelmed by the stories these kids told—even lost sleep because of it."
But now she is grateful that the children were able to have time away from whatever they were afraid of, even though it made it harder when they left.
When you hear their story—why they are angry, sad, violent—it humanizes them, and the realities of their stories made it difficult when they left. She now realizes that crying over them was actually good—because if you're not crying over them, who will?
"We can do our children a disservice if we try to convince them that everything is okay in life—they need to know that there are hurting, broken children in their zip code."
The story doesn't end with Jamie Grace crying in her bed, however. "I'm grateful for those sleepless nights because it helped make me who I am today."
Sacrifices
Jamie Grace also knows firsthand about sacrificing for the good of others. "It's crazy how our sacrifices can lead us to a much higher calling." Jamie Grace and Morgan wanted to do gymnastics. Although their family didn't have a lot of money, they finally were able to get into gymnastics classes. However, when some family members of a family at their church needed financial help, Jamie Grace and her sister decided to stop gymnastics and give the money to that family. "That decision led me to the calling God had on my life," she says.
That calling is not necessarily about her music, but about helping those in the foster care system. "There's something that every person can do." Whether it's buying a WalMart gift card to help a foster or adoptive family or a struggling mom who is trying to keep her kids—investing in a family that needs help is a huge step.
Current Projects
Jamie Grace has wanted to be an adoptive mom since she was 7 years old—she even drew a "blueprint" for "Gracie's Place"—a home for orphans. In fact, when she was about 9 or 10 years old, she signed her parents up for a home study (without their permission!) to adopt a 2-year-old girl from Asia. Even though her parents got on board and tried to adopt three different times, the adoption fell through every time due to Jamie Grace's illness.
"That's when God told me the reason it fell through is because it was his plan for my life, not my parents'," she says.
Many years later, Jamie Grace started working through the process herself. Waiting for 25 is a documentary of the journey of the process of becoming a foster/adoptive mom. She would film on the 25th of every month and devote that day to doing paper work and home study requirements. Ironically, her parents became the legal guardians of three toddlers and cared for them for a summer. They ended up moving across the country for her mom's health, so the documentary hasn't been finished yet. "The families were inspirational," says Jamie Grace. "The goal is that people can see that they could make a difference in the life of a child in foster care."
Lovewill.net
Another project Jamie Grace has been working on is a campaign through the Jamie Grace Foundation that works to empower and encourage families to serve children and families in the foster care system. Lovewill.net will be an online resource for anyone who wants to make a difference in the life of a child," she says.
The site includes next steps for what you can do, practical ways to serve either one time or long term. "You can change the life of a child by writing a letter, helping with a food drive or sharing a post. Lovewill.net is just a home for people who think kids are awesome and want to help."
Jamiegrace.com
Facebook
Twitter
Instagram
Lovewill.net
Meet Our Guest
Jamie Grace is a 25-year-old singer songwriter who was born and raised in Atlanta (but now resides in Los Angeles). She is a popular worship leader and speaker who shares honestly about life—its trials and victories. She relates easily to personal struggles because she suffers from Tourette Syndrome. A graduate of Point University, she is half of the duo Harper Still (her sister Morgan is the other half). Her desire is to advocate for children and recently launched Love Will, and online resource that helps people make a difference in the life of a foster child.
Get practical episodes and updates in your inbox.
Be the first to know about new episodes, posts, resources, and stay in the loop about what's coming up.
Other Episodes You Might Enjoy: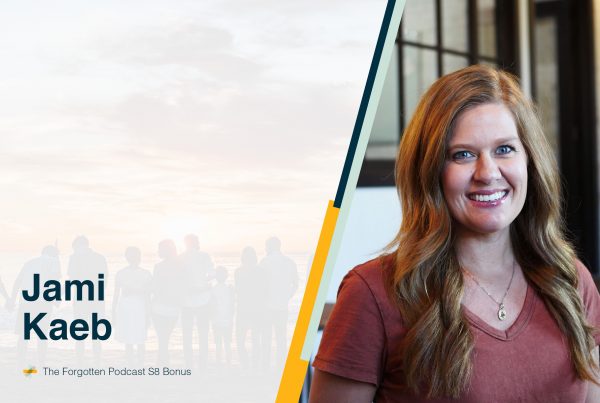 We became a big family suddenly through foster care—growing by 3 kids in 5 months and doubling the number of children in our home. Not long after, we added one more to our crew through…
At our TFI Advocate Retreat last year, we got to share an interview between Lisa Jacobsen, an Advocate in Carver County, MN, and a local pastor as well as a local agency worker to share…
Anna Kathryn Ellzey knew that as a foster parent she could not share pictures, names or details of the child in her care. But that didn't stop her from sharing a photo of him and…