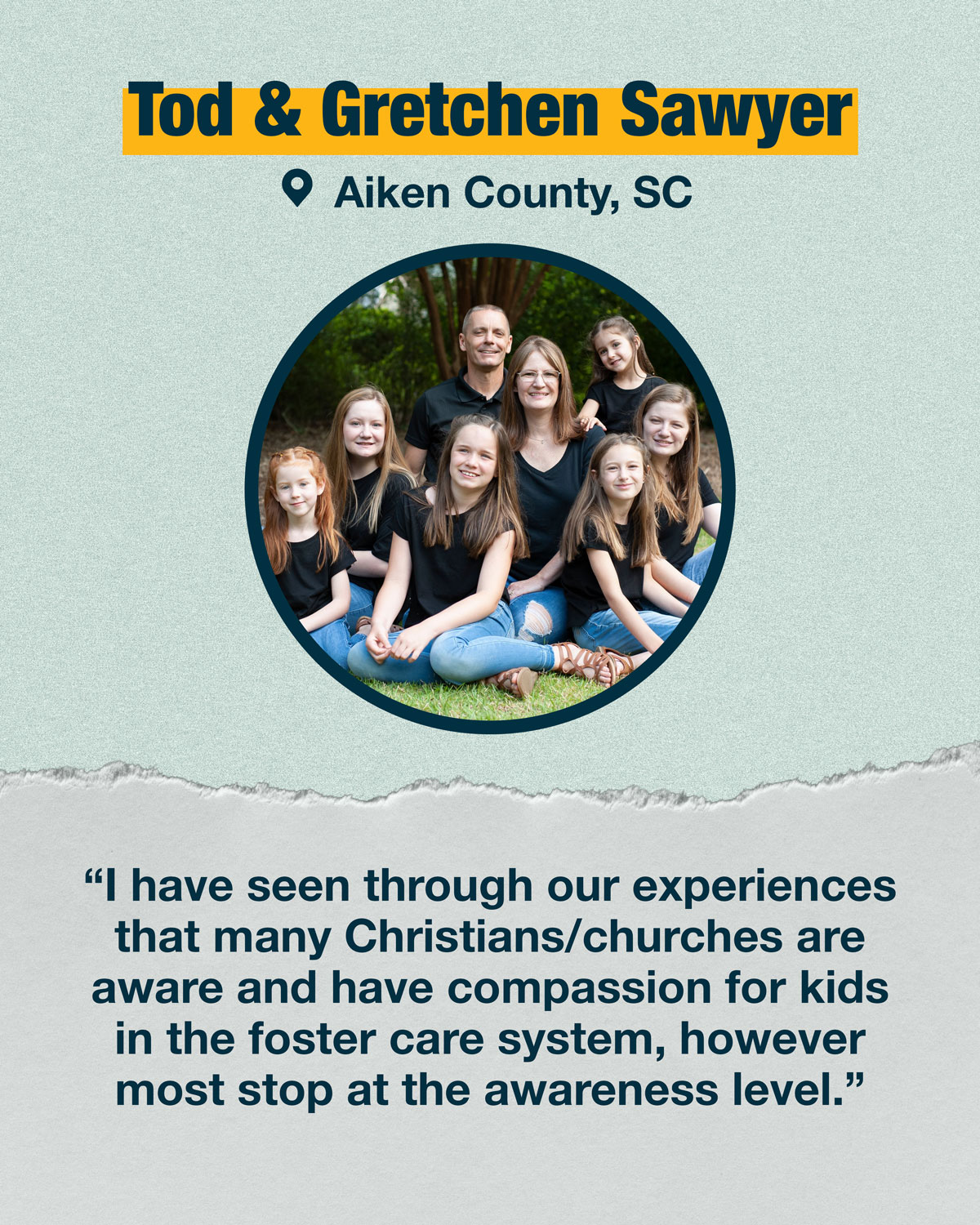 Meet our newest TFI Advocates!
Tod and Gretchen Sawyer were drawn to foster care more than ten years ago. They opened their home as a foster family, and over the span of 10 years, they cared for ten children, four of whom joined their family permanently through adoption. Tod and Gretchen now are the proud parents of six girls!
After finalizing their last adoption in March of 2021, they recognized their home was full. Still, they continued to feel the burden of foster care and believed strongly that the Lord desired them to continue serving in other capacities. The TFI Advocate role felt like their next step, where they could receive support as they helped the church step in to care for those involved with foster care.
Tod and Gretchen know the impact of Jesus in their own lives. Tod feels fortunate to be raised in a Christian home where he went to church regularly and accepted Jesus Christ as his personal savior as a young boy. Gretchen experienced the life-changing news of the Gospel as a pre-teen while attending church through a bus ministry. Their goal every day is to live so that their life brings honor and glory to God. They recognize that God allowed hard events in their lives to show them the need and place a burden on their hearts for kids in the foster system.
Using their experience as foster parents and organizing various projects on behalf of those in foster care, they have seen that presenting specific needs to the church and shifting the conversation to individual children instead of the foster care system as a whole is what gets people to switch to action mode. When they provide specific guidance on taking the first step and encourage the church to follow through, the church is willing to engage. They are excited to be part of even more of that!
Tod and Gretchen live in North Augusta, South Carolina, attend Victory Baptist Church, and serve DSS in Aiken County through their TFI ministry.
And as a bonus fun fact—Tod and Gretchen share the same birthday! How fun is that?!
Check out their ministry at aikensc.tfiadvocate.org.