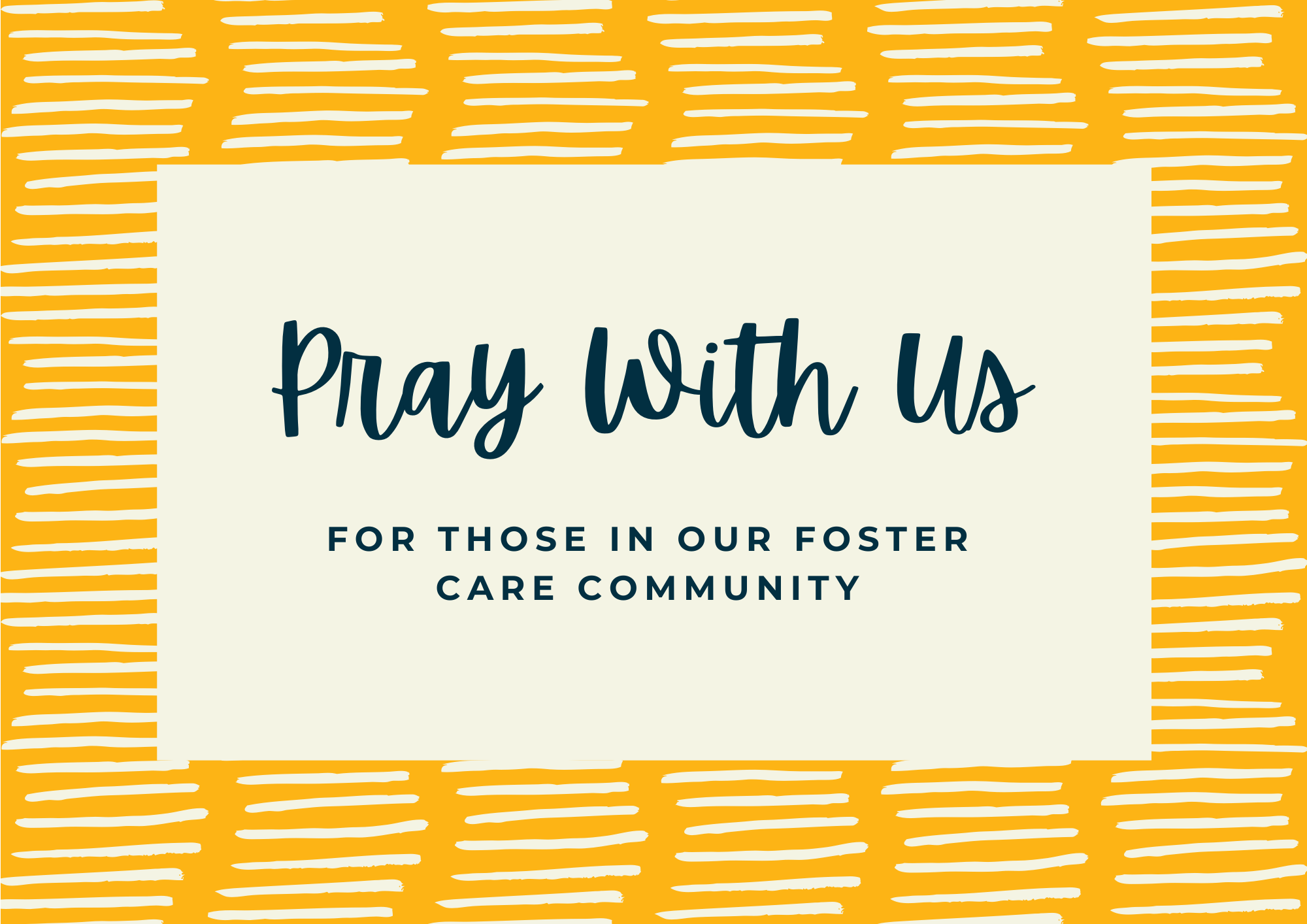 Children in foster care need the same things every other child needs- shelter, safety, love, compassion, and guidance. They also need an abundance of patience and understanding from people who will love them unconditionally because they have, through no fault of their own, been through traumatic circumstances in their life. Pray with us the following scriptures over the many children, foster parents, and social workers, both in our own community and across the nation.
VULNERABLE CHILDREN
Lamentations 2:19
Rise during the night and cry out. Pour out your hearts like water to the Lord. Lift up your hands to him in prayer,
pleading for your children, for in every street they are faint with hunger
VULNERABLE FAMILIES
Isaiah 58:10-12
Feed the hungry, and help those in trouble. Then your light will shine out from the darkness, and the darkness
around you will be as bright as noon. The Lord will guide you continually, giving you water when you are dry
and restoring your strength. You will be like a well-watered garden, like an ever-flowing spring. Some of you will
rebuild the deserted ruins of your cities. Then you will be known as a rebuilder of walls and a restorer of homes.
TO FIND THEIR PASSIONS
Jeremiah 29:11-14
"For I know the plans I have for you," says the Lord. "They are plans for good and not for disaster, to give you a
future and a hope. In those days when you pray, I will listen. If you look for me wholeheartedly, you will find me.
I will be found by you," says the Lord. "I will end your captivity and restore your fortunes. I will gather you out of
the nations where I sent you and will bring you home again to your own land."
TO KNOW THEY ARE LOVED
1 John 4:10
This is real love—not that we loved God, but that he loved us and sent his Son as a sacrifice to take away our
sins
FOR PEACE AND TO CALM THEIR ANXIOUS HEARTS
Philippians 4:6
Don't worry about anything; instead, pray about everything. Tell God what you need, and thank him for all he has
done.
TO KNOW THEIR GIFTS AND TALENTS
1 Peter 4:10
God has given each of you a gift from his great variety of spiritual gifts. Use them well to serve one another.
TO STAND FOR WHAT IS RIGHT AND JUST
Isaiah 1:17
Learn to do good. Seek justice. Help the oppressed. Defend the cause of orphans. Fight for the rights of widows.
John 17:15
I'm not asking you to take them out of the world, but to keep them safe from the evil one.
Psalm 140:1-5
O Lord, rescue me from evil people. Protect me from those who are violent, those who plot evil in their hearts and
stir up trouble all day long. Their tongues sting like a snake; the venom of a viper drips from their lips. O Lord,
keep me out of the hands of the wicked. Protect me from those who are violent, for they are plotting against me.
The proud have set a trap to catch me; they have stretched out a net; they have placed traps all along the way
SENSE OF BELONGING
Psalm 8:4-5
What are mere mortals that you should think about them, human beings that you should care for them? Yet you
made them only a little lower than God and crowned them with glory and honor.
WELCOMED INTO THE FAMILY – EXTENDED FAMILY
Romans 12:10
Show family affection to one another with brotherly love. Outdo one another in showing honor.
ADULTS WHO CARE AND SHARE THE GOSPEL 
Romans 10:14
But how can they call on him to save them unless they believe in him? And how can they believe in him if they
have never heard about him? And how can they hear about him unless someone tells them?
JOY IN TRIALS
Romans 15:13
I pray that God, the source of hope, will fill you completely with joy and peace because you trust in him. Then
you will overflow with confident hope through the power of the Holy Spirit.
James 1:2-4
Dear brothers and sisters, when troubles of any kind come your way, consider it an opportunity for great joy.
For you know that when your faith is tested, your endurance has a chance to grow. So let it grow, for when your
endurance is fully developed, you will be perfect and complete, needing nothing.
COURAGE
Joshua 1:9
This is my command—be strong and courageous! Do not be afraid or discouraged. For the Lord your God is
with you wherever you go.
Psalm 118:6
The Lord is for me, so I will have no fear. What can mere people do to me?
HEALTH
James 5:16
Confess your sins to each other and pray for each other so that you may be healed. The earnest prayer of a
righteous person has great power and produces wonderful results.
Matthew 11:28-30
Then Jesus said, "Come to me, all of you who are weary and carry heavy burdens, and I will give you rest. Take
my yoke upon you. Let me teach you, because I am humble and gentle at heart, and you will find rest for your
souls. For my yoke is easy to bear, and the burden I give you is light."
PROTECION FROM EVIL
Psalm 23
The Lord is my shepherd; I have all that I need. He lets me rest in green meadows; he leads me beside peaceful
streams. He renews my strength. He guides me along right paths, bringing honor to his name. Even when I walk
through the darkest valley, I will not be afraid, for you are close beside me. Your rod and your staff protect and
comfort me. You prepare a feast for me in the presence of my enemies. You honor me by anointing my head with
oil. My cup overflows with blessings. Surely your goodness and unfailing love will pursue me all the days of my
life, and I will live in the house of the Lord forever.