Did you know there's a lot of crossover between the characteristics that make someone vulnerable to human trafficking and common characteristics of children in foster care? Did you also know that a significant percentage of victims nationwide have a history in the child welfare system?
Whether you are a foster parent, adoptive parent, or someone that wants to learn how to spot the warning signs of human trafficking, we all have a duty to be aware of what those are. In this episode, I'm talking with Meghan Reedy, Licensed Clinical Social Worker (LCSW) and the Clinical Director of Eden's Glory, a restoration home for adult survivors of human trafficking. She shares about the women they've been able to support at Eden's Glory, how traffickers will typically prey on disadvantaged people, common red flags you should be on the lookout for, how she remains hopeful through the heartache, and a whole lot more.
If you are a victim of human trafficking or know someone else who may be, call the Human Trafficking Hot Line at 888-373-7888 or text 233-733
HERE ARE 3 TAKEAWAYS FROM TODAY'S CONVERSATION:
1. There are similarities between people who have been trafficked and the children in foster care.
Traffickers target the most vulnerable, those who are in poverty, or those who don't have a lot of support. It was particularly insightful when Meghan said, "These traffickers become what you need." They will take on a persona to fill a gap in someone's life. As parents, advocates, and individuals, it is crucial for us to be aware of human trafficking to protect children and adults who may be vulnerable.
"One out of three runaways within the first 24 hours will be approached by a trafficker."
2. Know how to spot trafficking.
Whether you are a foster parent or not, we all have a responsibility to be able to spot the signs that someone is being trafficked. Some of the signs to look for are evidence of abuse or neglect, suddenly getting a lot of new possessions, children that are fearful, anxious, always sleeping during the day, or children that have a lack of parental involvement or observation. A couple other signs are someone that doesn't have easy access to their personal identification or who always has someone with them. Because trafficking impacts so many people and is happening all over America today, it is important to be vigilant.
"Human trafficking is a symptom of the brokenness of our world."

3. Understand the impact of a trauma bond.
Meghan explained that a trauma bond is often formed between the victim and the trafficker. This occurs when there is an ongoing cycle of abuse that oscillates between intermittent rewards and then punishment. This is the same effect that children raised in abusive homes experience. When someone is experiencing a trauma bond, the person they go to in times of need is also the person that is hurting them. This bond is extremely hard to break and it is a long journey to get to a place of healing.
"Trauma bonds are the result of ongoing cycles of abuse, where there are intermittent rewards and then punishment. And those are cycled back and forth. This causes emotional bonds between those two people that are really difficult to break."
Meet Our Guest
Meghan Reedy is a Licensed Clinical Social Worker (LCSW) and the Clinical Director of Eden's Glory, a restoration home for adult survivors of human trafficking. Meghan first learned about human trafficking at the age of 16 during a presentation at her church. From that moment on, she knew God was calling her to make an impact in that field. Today, she has a Bachelor's in Sociology from Samford University, Master's in Social Work with a Marriage and Family Therapy Certification, and is a Licensed Clinical Social Worker. Meghan's passion is to walk alongside women and see the deep healing that God provides. Meghan married her husband, Phillip, in 2020 and they have a rescue dog named Levi.
Foster Parents, check with your agency to see if listening to this podcast will count toward your foster care training hours!
Get encouragement and updates in your inbox.
Be the first to know about new episodes, posts, resources, and stay in the loop about what's coming up.
Other Episodes You Might Enjoy:
Today's guest truly is an inspiration. Dani Brewer is a full-time wedding and family photographer, a single foster parent, as well as a transracial adoptee. She shares about how God prompted her to step in…
April Guffey is dedicated to being a resource for adoptive and foster parents, as well as the children in their care. April is an adoptee, former foster youth, and owner of Mercy and Healing, which…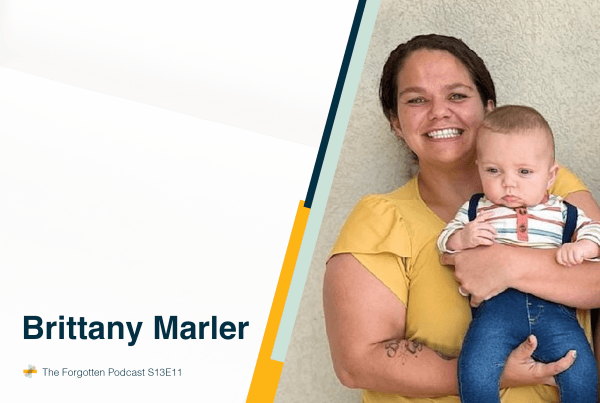 Brittany Marler's life was turned upside-down when her mother was killed, which eventually led to her adoption by her grandparents. In our conversation, she vulnerably shares with us her experience of growing up without her…