It's not uncommon for us to talk about the unique balance of brokenness and beauty in foster care. In this episode, I am joined by someone who has experienced the good, the bad, the beautiful, and the ugly of the foster care system. Darren Morris is a father and husband, a store manager of a Starbucks, small business owner, and founder of a soon-to-be nonprofit, A Foster's Hope. He entered the foster care system at the age of four and was eventually adopted eight years later into a family that now has 17 kids. (You read that right! 17!) In this honest conversation, Darren shares the impact of being a young kid bouncing around in the system, how his foster care experience has shaped who he is today, the value of mentors in his life, the redemption he's seen in his story, and how he's navigated trauma and overwhelming emotions.
HERE ARE 3 TAKEAWAYS FROM TODAY'S CONVERSATION:
1. Everyone needs the ability to make mistakes and be themselves.
Our kids carry with them so much more than what we can understand. As foster parents, we need to create a space where our kids can be themselves and have the freedom to grow. Understand that they are likely battling with understanding how they feel and often times they don't have that ability to articulate how they feel to you.
"As a foster kid, you never feel good enough. Especially when you've bounced around to different homes and locations."
2. God is faithful to bring redemption in our stories.
Darren's story is full of hardship, but through it all God provided hope! As he said in this episode, you can choose to remain in what you experience or you can learn from it and become the opposite of it. For him that means, he could choose to stay wrapped up in his experience of feeling alone and without family or he could learn from those experiences and become the best father he could to his own kids.
"You either become what you experience or you become the opposite of that."

3. YOU can have an impact.
There is room for how you feel called to serve. For some that may mean you have a passion for younger kids, babies, or maybe older kids. It could be fostering, adoption, or serving as a mentor. It doesn't matter whether you open your home or volunteer a few hours per week. You can make a difference for a child. You don't have to have it all figured out; you just need to be present.
"My father saved my life… If my father hadn't stepped in and taken a chance on me, I truly believe I'd be dead or in jail as well."
RESOURCES FROM TODAY'S SHOW
Meet Our Guest
Darren Morris is a store manager of a Starbucks, small business owner in the field of music production, and founder of a soon-to-be nonprofit, A Foster's Hope. He is a father of two girls with his wife of six years.
Darren was in foster care from the ages of four to twelve. He is an adoption and foster advocate, and was adopted into a family of 17 himself. (You read that right! 17!) Today, Darren's passion is to share the stories of those that have gone through the system and made positive strides to overcome hardships, trauma, and the craziness of being in foster care.
Foster Parents, check with your agency to see if listening to this podcast will count toward your foster care training hours!
Get encouragement and updates in your inbox.
Be the first to know about new episodes, posts, resources, and stay in the loop about what's coming up.
Other Episodes You Might Enjoy:
Sean, a pastor in Peoria, AZ, had a tough childhood. His parents struggled with drug addiction, and he experienced homelessness, foster care, instability, and more. In the midst of all the difficulty, God had a…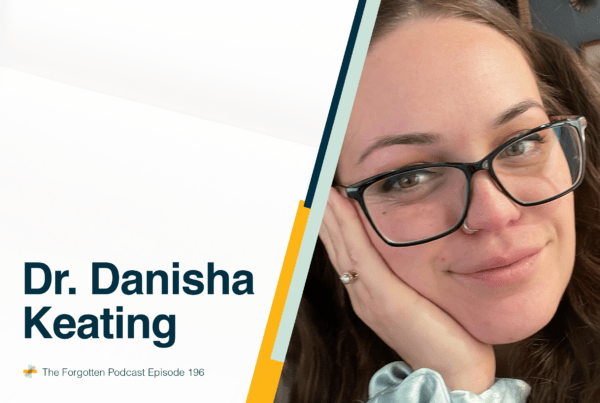 Foster children often grow up believing they are the reason why their families fell apart, but it isn't their fault.
Foster care rarely looks the way you expect it to, even in the "best" of circumstances. My guest today has been in the foster care community both as a foster parent and as an advocate.…