Becoming TFI Advocates
Mark Rudd, TFI Advocate in Mobile County, Alabama, shares that they saw a need for a parachurch organization that could bridge the gap between the foster care community and the church. TFI provided the opportunity to network with other churches as well as offered resources. "It's been great to see how well TFI has been received in churches in our community—people are excited to engage with the foster care community."
Another reason that people who want to serve the foster care community become TFI Advocates is because they don't have to invent anything—TFI provides the training, resources and encouragement to hit the ground running. This is one of the reasons becoming an Advocate made sense to Angie Grant, TFI Advocate in Chesterfield/Henricho Counties, Virginia. Part of TFI's appeal is the focus on relationship. "TFI is structured so that we are there to stay," explains Angie.
The importance of relationship with all the people in the foster care community is valuable. The relationship focus is something that Alison Rudd, TFI Advocate in Mobile County, Alabama, sees as a benefit to working with state agencies. "It's hard for them to trust—they have had many short-term, short-lived programs." The building of relationship over time helps establish a strong element of trust.
Networking with Other TFI Advocates
A benefit of being a TFI Advocate is having a network of other Advocates who are working to accomplish similar goals in their own community. Collaborating, sharing, gleaning wisdom from others' experiences are all helpful when thinking of strategies and ideas for your own community. "Advocates are not afraid to try something—and there's also something special, an added heart element, because we all want to see each other succeed," says Angie. "We champion each other and pray for each other."
The relationship among TFI Advocates is more like family. "We had so many texts from other Advocates encouraging us about our adoption journey," says Mark. "They pray for and celebrate what's going on in our personal lives as well as what we're doing as Advocates."
A very intentional opportunity for Advocates to network, be encouraged, receive training and rest is found in the annual Advocate Retreat. Held in late September at the WinShape Retreat Center in Rome, Georgia, the retreat allows Advocates to both get away from everyday life and get together with other like-minded people for training, fun and encouragement. "We look forward to [the Advocate Retreat] every year," says Alison.
Angie agrees, adding that the equipping portion of the retreat is invaluable. Having speakers and other Advocates cast vision, challenge, inspire, resource and just have fun together makes the Advocate Retreat a "must-do" every year.
Area Specific News
Mark shares that, although they serve in the "Bible Belt" where there are lots of churches, the church hasn't really engaged the foster care community. "They have heard of foster care, but they don't really understand it," he says. It has been encouraging to see the church community develop an awareness of a group of people in the community who need help—and seeing the foster care community in a wholistic sense, meaning agency workers, foster parents, vulnerable adults, and kids. Working together with other agencies in the community, Mark and Alison organized a conference to resource the churches and equip foster families.
The conference was a large undertaking that has shown many positive results, but the simple tools, such as the Journey Bags, are a doorway that often opens conversations about how they can do more. These tangible actions provide opportunity for deeper service, as awareness prompts more action. It's another example of the church caring, but not knowing how to get involved. TFI's Initiatives makes it easier, and God keeps opening doors.
Angie agrees, saying that in her area in Virginia, the tangible things like Journey Bags or organizing a Holiday Party gives the church opportunities to "touch"—they are entry level activities that lead to more commitment. "For some people, [foster care is] scary…but then they see that it's not so scary after all."
TFI's commitment to bring joy and purpose to the entire foster care community is an important factor that reaps huge dividends. For example, supporting and encouraging agency workers—building relationships and caring about them as individuals and not simply as a cog in the system—is an important value for TFI Advocates. When workers feel supported, they can do their job better.
Alison admits that when she started learning about foster care, she wasn't aware about how overworked, underpaid and unappreciated agency workers often are–and they have such a huge responsibility. She feels that three people—the agency worker, the attorney, and the foster parents—who make a huge difference in the life of a child in foster care. "When they work together, the child's prognosis for success, reunification—everything—is better." Her appreciation for social workers has increased—and she's praying that more Christians would go in to social work as a career.
God Stories
Celebrating what God has done is one of TFI's Core Values. Mark shares one story that is multiplied over and over is due to the increased church engagement in their Advocate area. "We often meet couples who have become foster parents because of something we've been a part of, and churches now have adoption ministries—after starting with Journey Bags. It's very humbling how our 'yes' is multiplied over and over because God can make something significant with something so small."
Alison adds that one of their early goals was to recruit 100 new Christian foster families—and they are slowly seeing that goal being met. "I'm humbled that God is allowing us to be used as part of this journey. And it's not just about taking care of the kids—it's about our spiritual journey that happens as a result. My walk with the Lord has never been closer."
Angie shares some special moments that recently occurred at the Holiday Party, one of which was when a 17-year-old sat across the table from another student who attended the same high school. Neither had known the other was in foster care, and it was powerful for them to realize they weren't alone. Kids in care can often feel isolated and alone, but events like these give them a sense of normalcy they don't often get.
TFI's goal is to make the name of Jesus more famous, whether it's in a church or a state agency office. "At the heart of TFI, it's about glorifying Him and making His name known," says Jami.
CAFO Summit
Angie encourages anyone who can attend CAFO's Summit to do so, as it is powerful to see the Body of Christ come together with a likeminded mission and purpose. The resources, breakout sessions, and relationships that are formed all make the experience one you won't want to miss!
Meet Our Guests
Angie and her husband Stan have pastored Clover Hill Assembly of God in Midlothian, Virginia, for the past 17 years. They have 4 children, one of whom was brought into their lives through the foster system. They are thrilled to see a mobilized church in the area of orphan care and are passionate about the people of God living a transcendent life!
Mark and Alison Rudd live in their hometown of Mobile, Alabama, and have been foster parents since 2012. They have a biological daughter, age 11, and a boxer named Bailey. The Rudds just recently adopted twin 5 year-old girls from foster care. They are passionate about engaging the church to care for the foster care community, including meeting the needs of birth families in crisis.
Get practical episodes and updates in your inbox.
Be the first to know about new episodes, posts, resources, and stay in the loop about what's coming up.
Other Episodes You Might Enjoy:
In this episode, you'll discover the beauty of following God's plan instead of our own, how foster and orphan care influence the intersection of other issues, as well as learn tips on how to prioritize…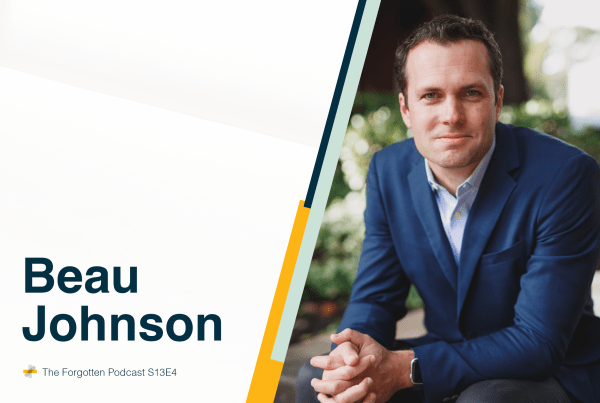 My guest today is Beau Johnson, who is not only an expert in helping others find their motivation and purpose at The Table Group, a company led by Patrick Lencioni, but he has also been…
Whether you're just thinking about foster care or adoption and want to know what it's really like or you're in it and you need support, today's guest, Mike Berry, offers a picture of the good,…