It's National Adoption Month! In honor of that, the podcast will be weekly this month to provide more opportunities for you to share episodes with friends who might not know as much about foster care or adoption in order to increase awareness. Let's spread the word!
In the adoption and foster care community, we often encounter stories of brokenness and heartache. At the same time, we find stories of hope, healing, and God's faithful purpose. For Maria "Mia" Arrington, God's purpose and faithfulness were weaved throughout every part of her story, from being a child in foster care to an adoptee to today being a licensed social worker, therapist, wife, and mom to a beautiful daughter and stepson. In today's episode, Mia openly shares her journey of entering foster care as a toddler, experiencing a disrupted adoption, living in a group home, eventually being adopted, and how she is using her story to spread hope and healing to others.
TAKEAWAYS FROM TODAY'S CONVERSATION:
1. You may not have support from your extended family.
This is true for adoptive parents, foster parents, and adoptees. Not everyone will understand or support you through this journey. As a parent, that may mean setting boundaries with your extended family to protect yourself and your children. For those in the Church, this is a good reminder that you don't know who does and doesn't have support, so it is important to be there for those in the foster care community.
"It may be hard, but it's important that we learn to sit at the feet of those sharing their story."
2. Adoption won't complete you.
For Mia, this came as a surprise as she experienced feelings of loss, hurt, and uncertainty after being adopted. Ultimately, she came to know that true security and feeling complete can only come from God. He is the only one that can heal our hurts, restore, and redeem us. For those of us supporting the foster care community, we need to be a safe space to allow our children to ask questions, to go through the grieving process, and to point them to the One that can bring them wholeness, hope, and healing.
"Adoption actually didn't complete me in the way that I thought adoption was going to complete me. And sometimes that can be really confusing for an adoptee."
3. The Church and the foster care community both need each other
.
We all are flawed, limited, and we will make mistakes. It is only out of the blessings and love that God has for us that we can bless and support others. It is not our job to be a Savior; our role is to point each other to the One who is.
"God blesses us to be a blessing to others, to extend and open your arms to say there's a seat for you."
Meet Our Guest
Maria "Mia" Arrington is a former foster youth, adoptee, licensed social worker, and has a Master's in Social Work. She works as a therapist with South Collective Counseling in New Jersey. Mia is also the creator of A Fostered Love, a space designed to offer ongoing support and resources to those in the adoption and foster care community. Her passion is to help everyone see and understand that the God of creation loves you and wants to help you uncover healing and hope. Mia lives in New Jersey with her husband and daughter. In her spare time, she likes to read a good book, create, and encourage those around her.
Foster Parents, check with your agency to see if listening to this podcast will count toward your foster care training hours!
Get encouragement and updates in your inbox.
Be the first to know about new episodes, posts, resources, and stay in the loop about what's coming up.
Other Episodes You Might Enjoy:
Today I'm talking with Justin Whitmel Earley, a lawyer, speaker, and author of both Habits of Household and The Common Rule, and he knows a thing or two about creating habits. When it comes to…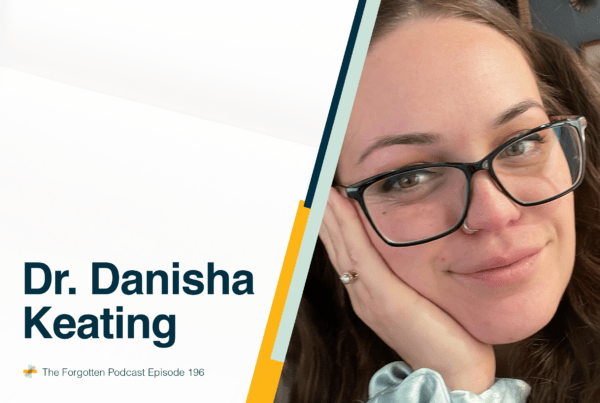 Foster children often grow up believing they are the reason why their families fell apart, but it isn't their fault.
In today's episode, Tina graciously shares her story with us, how her adoptive parents gently helped her navigate her past, advice for foster and adoptive parents, and more. Tina is an incredible woman, and I…